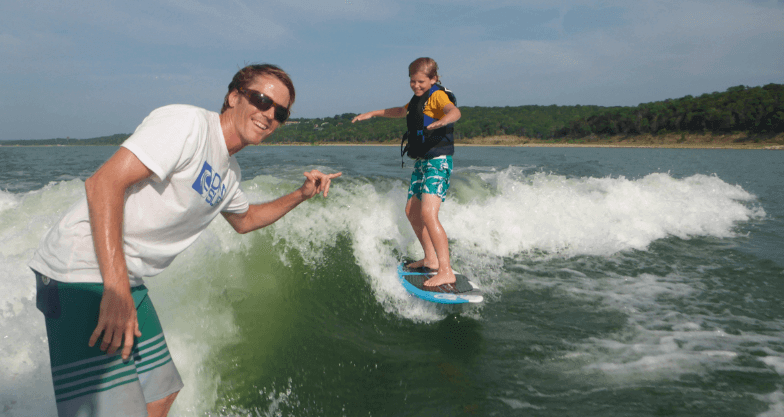 Wakesurfing Lessons on Your Boat:
Do you own a surf boat?  Malibu, Mastercraft, Supra, Nautique, Moomba, Tige, Centurion or another inboard towboat?  Beyond learning how to wakesurf and progressing your skills, the most important part is having the right equipment, including boards and boats.  Our coaches will meet you, on your lake, and teach you how to use your new boat.  Knowing how to set up your boat is key to being able to wake surf properly and safely.  You should not be surfing too close to your boat, nor using the rope to pull yourself.  We will teach you how to weight your boat correctly with stock ballast and extra fat sacs, how to trim your tabs and dial in your speed to produce the perfect wave height and length.  We will also cover proper surf etiquette and driving techniques.  Beyond the boat we will come equipped with boards for you to demo, talk and show you the difference between surf and skim style boards and help you learn your first bottom turn, air, shuv-it, or 360.  We will teach you how to be more comfortable and confident in your boat, driving, wave and surf skills.
---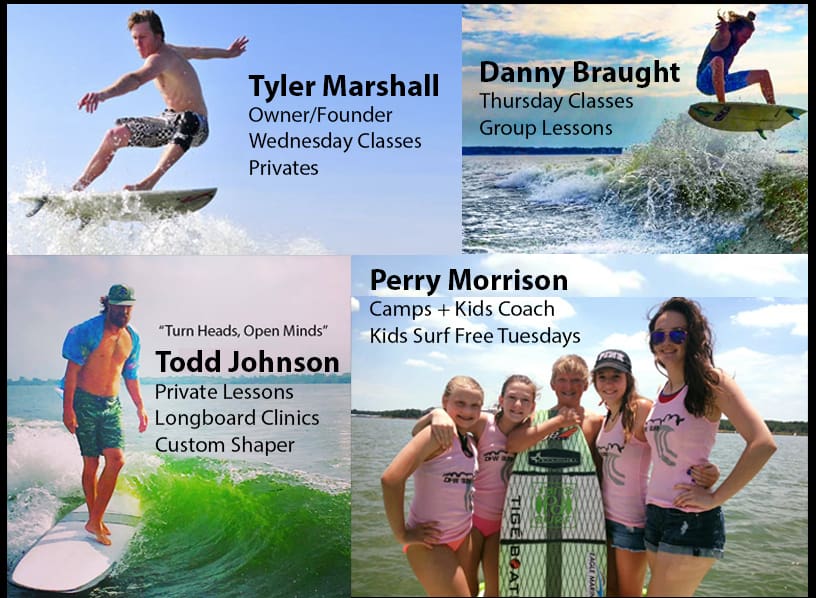 Our Coaches
Since 2007 DFW Surf School has been at the forefront and progression of inland surf sports and wakesurfing.  Through the efforts of wakesurfers- Tyler Marshall, Danny Braught (retired), Todd Johnson and Perry Morrison, hundreds of people have either learned how to wakesurf for the first time, or learned how to surf better.  It all starts with the right board, the right wave and basic wakesurfing skills and knowledge.
Lesson Rates
$200/Hour.  2 Hour Minimum.  Lessons include demo boards, instruction.  Video analysis is also available (Additional charges apply for travel time to and from lakes beyond North Texas- Dallas/Fort Worth area, click BOOK NOW below)
We travel all around Texas for YOU!  From Fort Worth to Austin to Houston.  Teaching wakesurfing since 2007