Summer Surf Camps on Grapevine and Lewisville Lake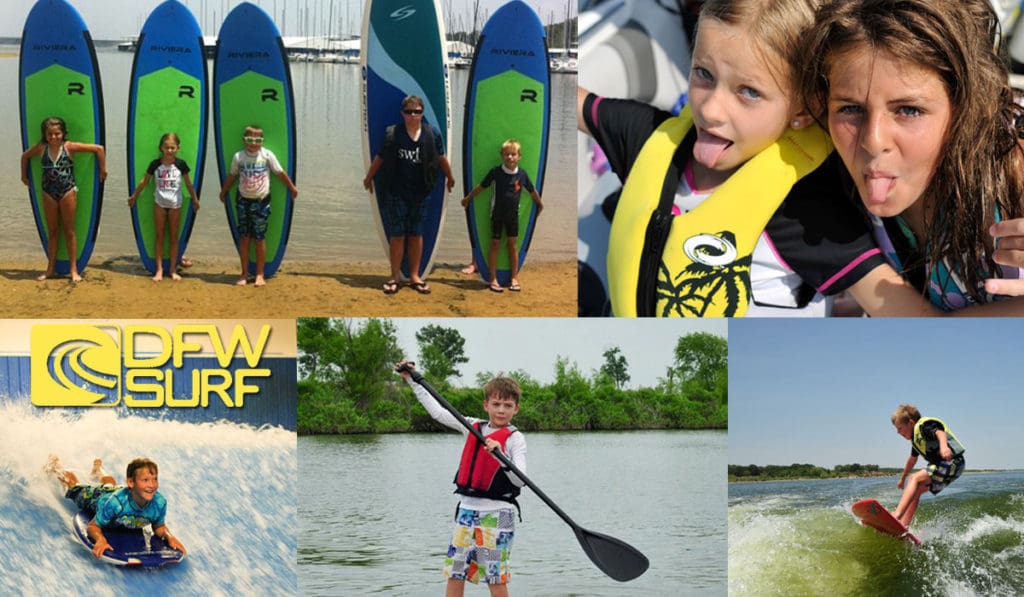 ---
CAMP TUBULAR–  Got Watersports?  Camp Tubular is designed for watersport beginners ages 7 +.  This is a Morning Day Camp with a focus on learning a new watersport each day of the week including tubing, paddleboarding, kayaking and some surfing basics.  This is our most popular camp recommended for beginners.  It's all about having fun, feeling safe and confident on the water.  We will end each day with the funnest activity on the water- TUBING! (camp pre-requisite:  basic swimming skills)
| | | | |
| --- | --- | --- | --- |
| | Little Elm Beach | June 7-11 | $249 |
| | Grapevine Lake | July 12-15 | $249 |
| | Grapevine Lake  | July 26-30 | $249 |
CAMP SURFER–  75% of the camp will take place on the boat; activities include:  wakesurfing, longboarding, paddleboarding, slack line balance training, boat driving and tubing.  One day will also include professional photography.  New to wakesurfing?  No problem, please hop in one of our weekly Surf Classes first.  We only feature one of these camps each year:  July 19, 2021 on Grapevine Lake.  Fridays will act as a weather make up day if needed.  Ages 9+.  Custom camps/ dates also available by request please email info@dfwsurf.com.
| | | | |
| --- | --- | --- | --- |
| | Grapevine Lake | JULY 19 (Sold Out) August 2 (Spots Open) | $499 |


Questions?  Please email info@dfwsurf.com with Subject: "Summer Kids Camps" 
Custom camps available by request- Get your son or daughter and his or her friends together in their own private day camp available any dates besides those mentioned above.