Surf The Lake 2021- Get Ready- Sept. 10-11
Early Bird Registration Now Open-  CLICK HERE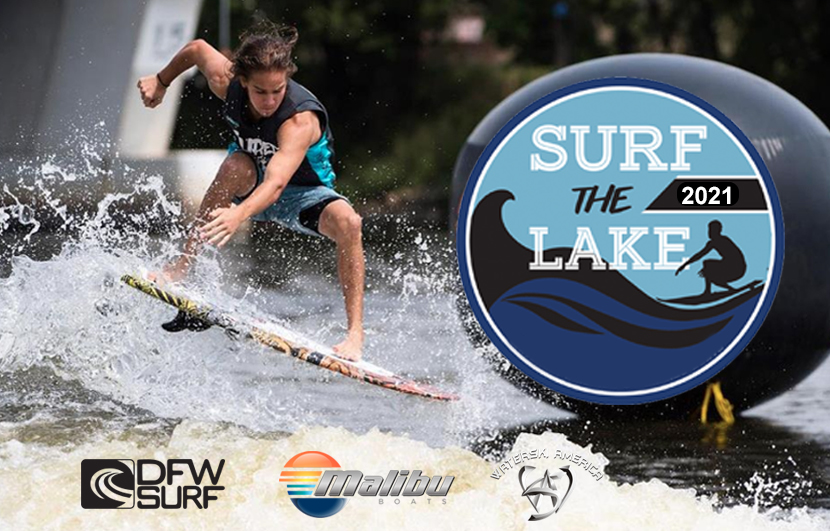 DFW Surf's annual grassroots wakesurfing competition in North Texas.  Each year local wakesurfers gather and put their skills to the test.  A grassroots wakesurfing contest means that this is completely designed for the amateur wakesurfing crowd.  With very few professional athletes in the sport there is a need for a friendly competition for the average guy and gal who like to go wakesurfing with their friends on the weekends.
Special thanks to the headlining sponsor and your event towboat- Waterski America.  WSA is the place to grab a new board or boat; the home of top industry brands like Malibu and Axis Boats.
Wakesurfing Competition
In most competitive/ professional wakesurfing events you will find the categories:  Juniors, Amateur, Outlaw (also called Semi-Pro) and Professional (or Open).  For our fun and family friendly event, our categories include:  Grom (6-9 Years), Juniors (10-14 Years), Beginner (1st or 2nd year wakesurfer, no tricks), Amateur (intermediate wakesurfer- a 360 spin will land you on the podium), Masters (Ages 40-50), Open Longboard (7 Foot Minimum Board Length) and Legends (50+).
Rules and Scoring–  Surfers will be judged according to 3 categories:  STYLE, INTENSITY, TRICKS and DIFFICULTY.  Each surfer will have 5 total minutes (unlimited falls) of surf time.  Instead of a specific course design and 2 falls max, the itinerary here is no pressure/ jam format.  While you do have unlimited falls, more style points will be awarded to the surfer who surfs continuously.