December 3 Update- (1) Used 12 Foot Surftech bamboo touring model for the bigger paddler- 190-250 pounds (Frisco) for $800- originally $1599 and (2) Used 12'6 Racing Boards (Grapevine). (1) New YOLO Board Original 12′ Foot- $1599 (Frisco) (5) Used 11′ Foot Bounce SUP (Only Board Made in the USA)- year end sale $300 (Grapevine). (2) Used YOLO Board 11′ Foot Hammerhead Series Blue (Little Elm)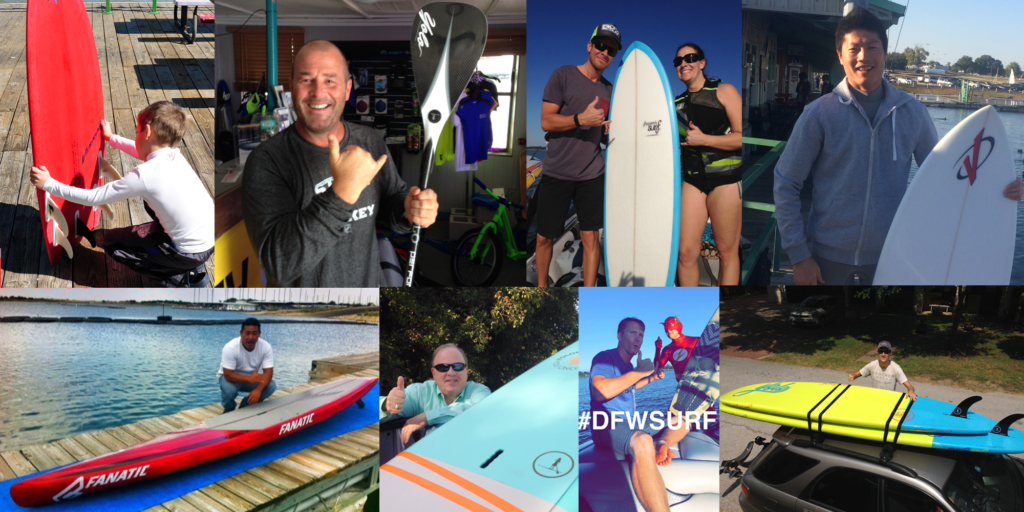 Buying your First Paddleboard
Looking for a new or used standup paddleboard in Dallas/Fort Worth/North Texas?  There are a lot of things to consider when buying your first SUP board:
Try Before You Buy!
First and foremost:  have you ever been on the board before?  You are probably not going to buy a car without taking it for a test drive, similarly, you need to test drive different boards of all shapes and sizes before making a decision.  Our recommendation: take advantage of free demos and try as many different boards as you can.  Or you can go out a limb, read a bunch of reviews online and go with a reputable company.
Where and How Will You Be Paddling?
The biggest question we will ask our customers is what they will be doing with the board, who will be using the board and where they will be using it.  Paddleboard packages are expensive and a lot of customers are looking for a board that is ideal for all family members. Do you want to do yoga on the board? Are you looking for speed?  Do you need an inflatable board that you can travel with? Do you want to paddle with your dog?  
Buy from a reputable brand . . .
that has been in business for more than three years.  With so many new companies the paddleboard market has already become saturated and full of inferior boards that have been mass produced overseas. Think about the process of R and D (Research and Development) that a new board company has to go through. Do you really think that you can perfect a board in less than three years time?  Take our advice and go with a company that has been in business for at least ten years.
New or Used Paddleboards?
For most people, paddleboards are expensive.  This is a big decision that will take some time.  The average entry level paddleboard costs $999 and along with a paddle and tax you are looking at spending around $1,200. If you are on a budget then you might wanna look at getting a used board for $400-$700. We have a big selection of used boards, come and see us!
Don't Buy a Board on the Internet!
There is a big risk that the board will arrived damaged. Then you have to hassle with re-wrapping and returning this big piece of equipment. What a headache!
At DFW Surf we have a large inventory of new and used stand up paddle boards that we use to house our retail shop, our daily rental activities and our Surf Club.  We try to maintain the newest, best performance and most durable line of boards and paddles for our customers to experience.  Everything is for sale at all times in our rental board fleet including brand names like YOLO Board, Surftech, and one of the only U.S. made boards- Bounce SUP .  We recommend stopping by one of our locations on Lake Grapevine or Lake Lewisville and talking with one of the pros.  Here you will be able to demo multiple different boards before making a decision on what to buy.  Some people are sold on our Surf Club and being able to use all different types of boards, at one of our convenient lakeside paddle locations at any time and the 10-15% discount perks.  To set up a demo, see what we have in stock, new and used, give us a call: 972 427 4082 at extension 4 for Sales.