Summer 2021 Update – We have several new SUPATX and YOLO Board epoxy boards at our Frisco location.  New YOLO Board inflatables at both Grapevine and Frisco locations.  Some used boards- Bounce SUP and Surftech Lido at our Grapevine and Frisco locations.  Give us a call:  972 427 4082, Extension 4 for Sales-  We can deliver to you for Free if you are local (new boards only)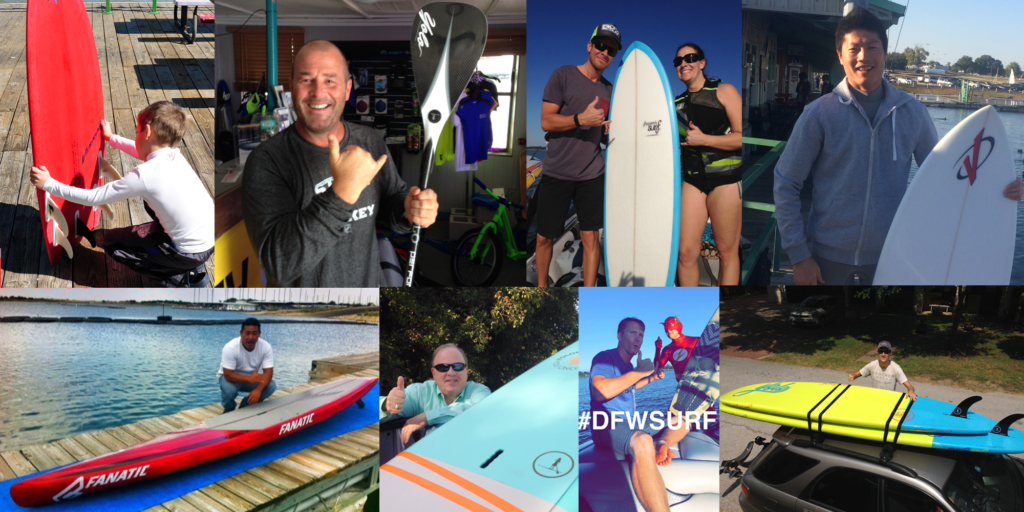 Buying your First Paddleboard
Looking for a new or used standup paddleboard in Dallas/Fort Worth/North Texas?  There are a lot of things to consider when buying your first SUP board:
Try Before You Buy!
First and foremost: have you ever been on the board before? You are probably not going to buy a car without taking it for a test drive, similarly, you need to test drive different boards of all shapes and sizes before making a decision. Our recommendation: take advantage of free demos and try as many different boards as you can. Or you can go out a limb, read a bunch of reviews online and go with a reputable company.
Inflatable or Hard Board?
The biggest question we will ask our customers is what they will be doing with the board, who will be using the board and where they will be using it.  Are you looking for speed like a racing or a touring model board?  Do you need an inflatable board that you can travel with and store easily?  If you can afford it, store it and transport it we would definitely recommend a hard/ fiberglass/ epoxy board because of the superior performance and durability.
New or Used Paddleboards?
For most people, paddleboards are expensive.  This is a big decision that will take some time.  The average entry level paddleboard costs $999 and along with a paddle and tax you are looking at spending around $1,200.  If you are on a budget then you might wanna look at getting a used board for $400-$700.  We have a big selection of used boards, come and see us!
Don't Buy a Board on the Internet!
There is a big risk that the board will arrived damaged.  We have been receiving boards for years and nearly 20% arrived with shipping damage!  Then you have to hassle with re-wrapping and returning this big piece of equipment.  What a headache!
Give us a call:  972 427 4082, Extension 4 for Sales