Try Before you Buy.  Shop Local.  Buy New or Used Paddleboard brands including YOLO Board, Surftech, Bounce SUP and Quickblade Paddles.  We do not sell low Quality Costco, Dick's, or Tower Paddleboards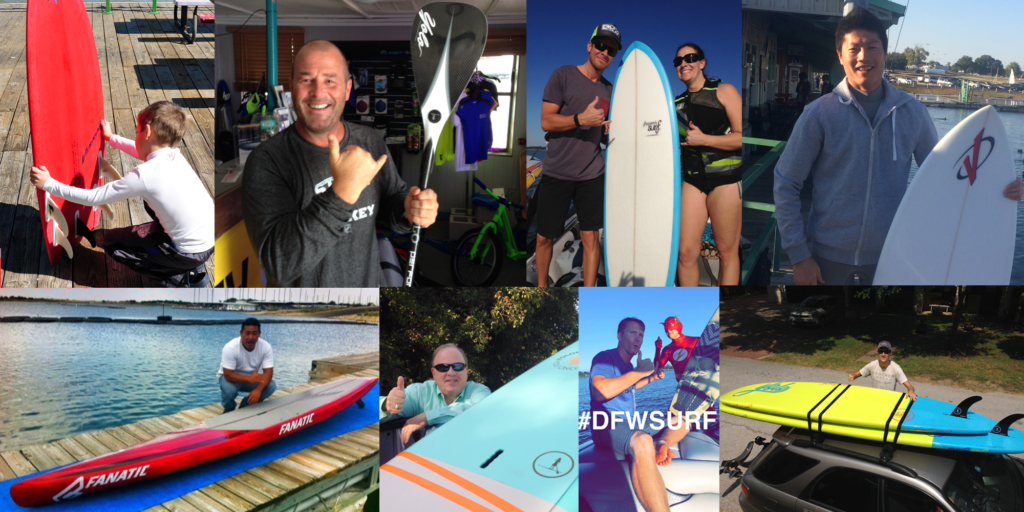 Buying your First Paddleboard
Looking for a new or used standup paddleboard in Dallas/Fort Worth/North Texas?  There are a lot of things to consider when buying your first SUP board.  Here's our top 3 things to keep in mind:
Try Before You Buy!
First and foremost:  have you ever been on the board before?  You are probably not going to buy a car without taking it for a test drive, similarly, you need to test drive different boards of all shapes and sizes before making a decision.  Today you can walk in to Dick's Sporting Goods and Costco and buy a paddleboard, but you are not able to take it out to the lake and test it first.  At DFW Surf we are one of the only companies where you can actually demo a board before you buy.  Our recommendation: take advantage of free demos and try as many different boards as you can.  Or you can go out a limb, read a bunch of reviews online and go with a reputable company.
Where and How Will You Be Paddling?
The biggest question we will ask our customers is what they will be doing with the board, who will be using the board and where they will be using it.  Paddleboard packages are expensive and a lot of customers are looking for a board that is ideal for all family members. Do you want to do yoga on the board? Are you looking for speed?  Do you need an inflatable board that you can travel with? Do you want to paddle with your dog?  It's up to you and what you need really, but one thing that we can recommend for any type of paddler is an adjustable paddle like the custom DFW Surf all kevlar adjustable.
Buy from a reputable brand . . .
that has been in business for more than 3 years.  With so many new companies the paddleboard market has already become saturated and full of inferior boards that have been mass produced overseas. Think about the process of R and D (Research and Development) that a new board company has to go through. Do you really think that you can perfect a board in less than three years time?  Take our advice and go with a company who has been perfecting their boards for years through R and D.
New or used Paddleboards aka SUP Boards?
For most people, paddleboards are expensive.  This is a big decision that will take some time.  We get calls and emails all the time- do you have any boards for $200 or $300?  Quick answer, No!  Couple things to understand here.  Paddleboards are not pieces of plastic like kayaks.  The average entry level paddleboard costs $899 and along with a paddle you are looking at spending around $1,000.  Lets think about a used board here in mint condition. If a board costs $950 new including tax, then how much do you think a used board is? Definitely not $200 or $300.  You are gonna be spending closer to $700-$800 depending on the condition.  Every now and then we feature some amazing specials and some used board deals with even more savings and we invite you to join the DFW Surf Facebook page for these specials. Couple other things to keep in mind: every year these boards get better and more durable as companies are always looking for an edge in quality, construction and design.  If you do buy a used board is it a board that will last or is it one that you might find yourself bringing back to us for ding repair? Is the board damaged?  How much is it going to cost to fix?  What year was the board made? In general, most early model boards were R and D boards and made from styrofoam; stick away from 2008-2012 models.  We also recommend staying away from boards in their first 4 years of their company life in general including a lot of the newer wakeboard company owned paddleboards.  The Advantage: 1.  You can get a great deal on a used board if you shop around 2.  Most used boards are no longer in production (like cars) and might actually be better than newer ones.  Take the Bark Competitor for example, in 2013, Bark made a great 12'6 racing model with an amazing color design that is still one of our favorite boards to date.  Today, this board is not made anymore and you can only by it used if you are lucky to find it. Don't Buy a Board on the Internet!
There is a big risk that the board will arrived damaged. Then you have to hassle with re-wrapping and returning this big piece of equipment. What a headache!
Try to google stand up paddle boards for sale and looks what comes up in the search results:  Dick's Sporting Goods, Amazon, Ebay, The House, Stand on Liquid, Tower and Wal-Mart.  Which board do I choose?  It might seem overwhelming, but think of the first page of search results as typically being cluttered by ads from big businesses like Wal-Mart.