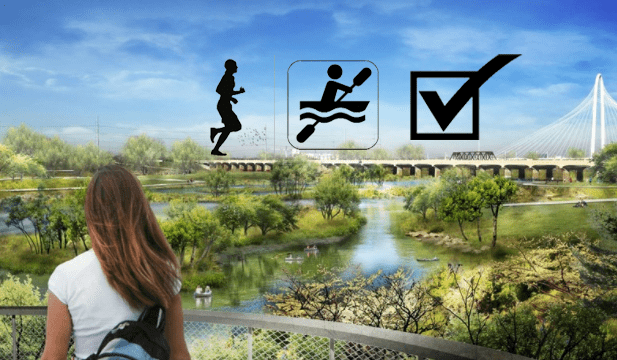 Recent plans for the 155 acre development- Dallas's Trinity River Park Project- include walking trails and a river landscape and will be the perfect place for future outdoor activities and events in Dallas.  The park will be named Harold Simmons Park in honor of the late Harold Simmons and courtesy of a 50 million dollar donation from wife- Annette Simmons.  This will be "one of America's greatest urban parks" according to Dallas mayor Mike Rawlings.
The Park would be 11 times the size of New York City's Central Park.  Below is a post project rendering released by the City of Dallas that shows the walking trails along with new paddle trails and even several images of kayakers.  The question remains:  so what does this mean for DFW paddlers?  Will the Trinity River be easily accessible and open to paddlesports like kayaking and canoeing as well as the popular sport of standup paddle boarding?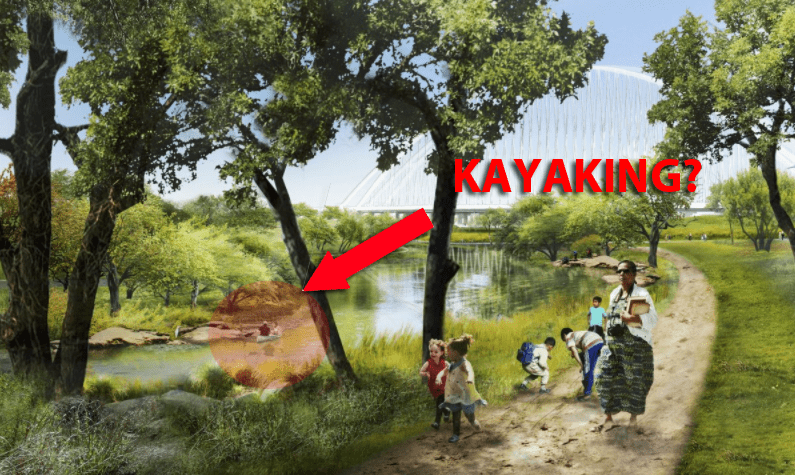 Several other renderings of the Trinity River Project include pictures of paddlesports- kayaking and canoeing, which leads us to believe that, YES, paddle craft will be allowed on the river.  How this will be regulated or permitted, where will the paddle launching be, will there be paddlesport rentals and many more questions are still up in the air.  If the river is anything like other City of Dallas Parks and Rec waterways then you can be assured that no swimming will be allowed (just like White Rock Lake and Bachman Lake).  Yet, if paddleboarding is allowed on White Rock and Bachman then it is safe to say that you can paddle here too.  And if the great floods of 2007 and 2015 happen again there is even a plan for that too.  (Below is a shot of Coach Dingo paddling on the Trinity during the great flood of 2015, as you can see everything would be submerged in water and the park would be closed, just as most other lake parks around the metroplex would be closed too):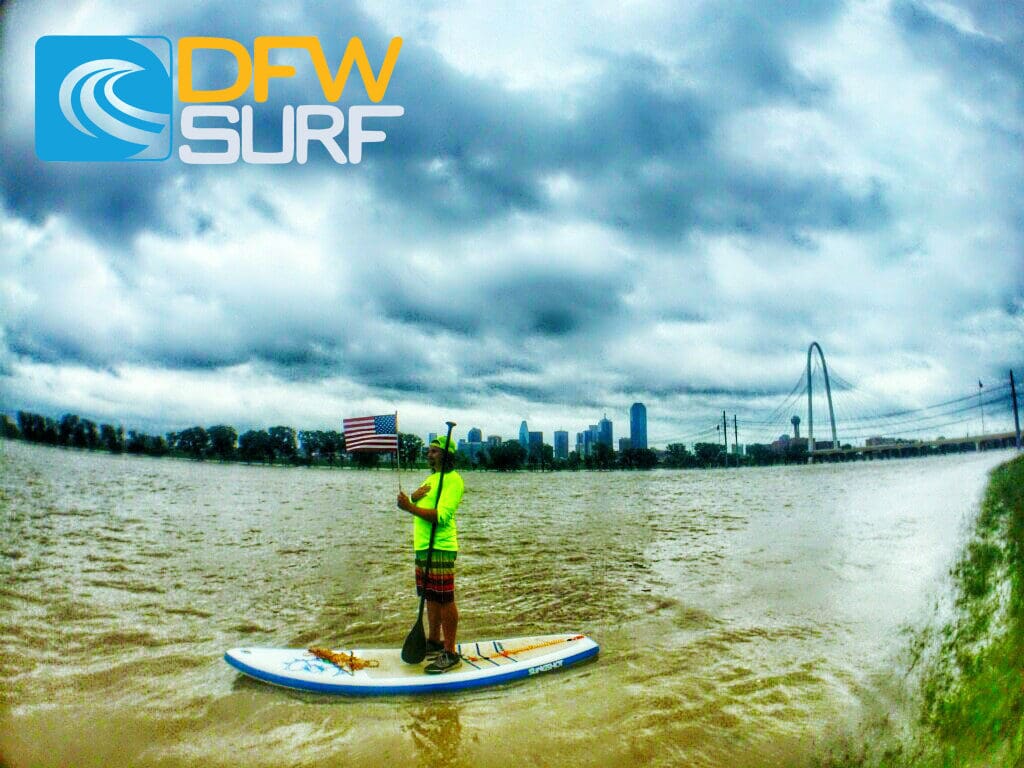 Other renderings of the Park can be viewed on Google when you type in "Trinity River Corridor Project."  One of the images shows a boat similar to a pontoon boat and the river looks pretty and blue and as wide as Lake Austin.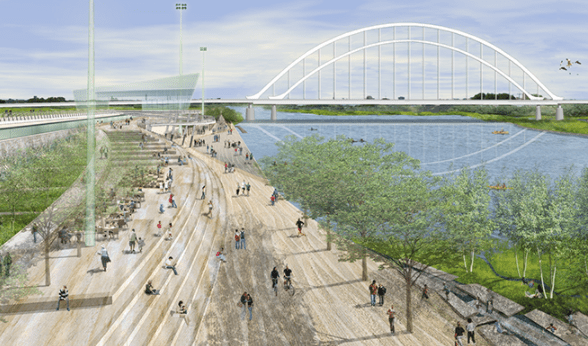 Dallas can expect great things with the new Trinity River Project, a culmination of Dallas West side urban development over the last decade.  If you travel over to the West side today the culminating landmark is the new urban bridge, home of local events like "Yoga on the Bridge."
Imagine a paddlesports event that could be witnessed from the bridge.  Imagine a 5K or 10K running event that could utilize the bridge and the park below.  For the outdoor enthusiast, the new Trinity River Park means new places to explore.  For the Dallas economist, it means no more North/South and East/West barriers (originally the bridges were created as a dividing line between two socio-economic areas of Dallas).