"Goat Man's Bridge"  story and photos by Justin Hammond
I used to drive by this bridge on my way to work every day; a bridge to nowhere.  It had to have had some historic value because it was still there, dead ending into the trees that lined the new road the county built to replace it.  There was something drawing me to this spot, and I felt it was more than just the 50ft wide river full of wildlife that scenically channeled into the nearby Lake Lewisville.  So I did my research on this historical landmark, and after what I found, I couldn't wait to paddle it!  It was haunting.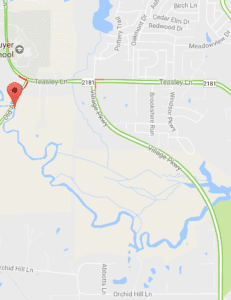 This paddle path is Hickory Creek and runs from the Old Alton Bridge to Village Parkway.  It is roughly 3.5 miles of the winding river, completely wind blocked by the surrounding trees and bustling with wildlife.  There are a few areas that the wind does tend to break through, and there is a slight flow to the river, but it is so minimal that you won't even notice it.  This paddle path provides several opportunities to travel off into the trees and explore places that boats never could.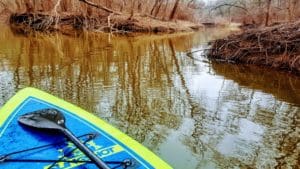 The water is deep enough, in some parts 20 feet, so occasionally there is some boat traffic with fisherman out seeking their daily catches.  I have only seen them out there on the weekends and even then it is few and far between.  That means grab some friends because you can take over the whole waterway!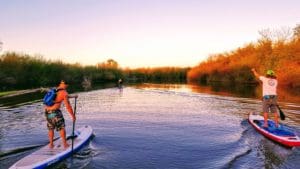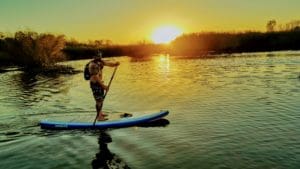 Since the trees surrounding Hickory Creek protect the water from the wind, the current is almost nonexistent and since Texas has some of the best sunsets, this path also provides ample opportunities for photo ops and sunset tours. You don't want to stay out there too late though…… BEWARE THE GOAT MAN!
The Old Alton Bridge, situated atop Hickory Creek, was built back in 1854 and connected the cities of Denton and Alton, now known as Copper Canyon.  It was mostly used by horse and trailers, people on foot and eventually automobiles, and remained in constant use until 2001 when the county constructed a new bridge.  Up to that point, in order to cross this one lane bridge, drivers had to honk to signal they were crossing.  This history was fascinating and all, but digging deeper I found a more haunting end to this story.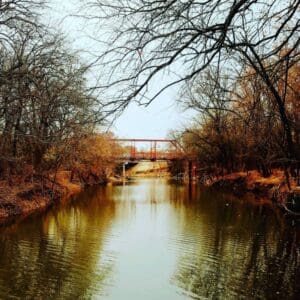 As it turns out, this is also known to locals as the "Goat Man's Bridge."  As legend has it, an African American goat farmer named Oscar Washburn was making a prosperous living raising and selling goats just on the other side of the bridge in Alton.  He would often take the bridge into the Denton Market to sell his goats, and he was well known by the local community who even praised him for his success.  This did not include select KKK Klansmen who may or may not have been active members of the local government.  In August of 1938, Oscar posted a sign on bridge that read "This Way to the Goat Man's" and that was the final straw for these men.
Late at night they drove across the bridge, headlights off, and onto the property of Oscar Washburn.  He was torn away from his family in the middle of the night.  He was lynched, tortured and eventually prepared to be hung from the very bridge he hung the sign.  After his captors tied the rope off and secured the noose around his neck, they threw him over the side of bridge, but when they looked over to watch him hang there was no body to be found….
Strange sightings have since been reported since the disappearance of Oscar Washburn's body.  Some reports come with claims of being followed by a shadowy figure, and a heard of goats, laughing hysterically, while others say the apparition came to them in the form of a half goat half man hybrid creature.
Whatever the case may be, before they shut down the bridge the locals would always warn "Do not cross the bridge with your lights off.  For if you do, you will surely run into the Goat Man!"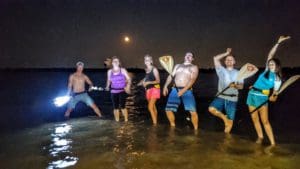 Do you have what it takes to paddle this path and risk a run in with The Goat Man?!?!?