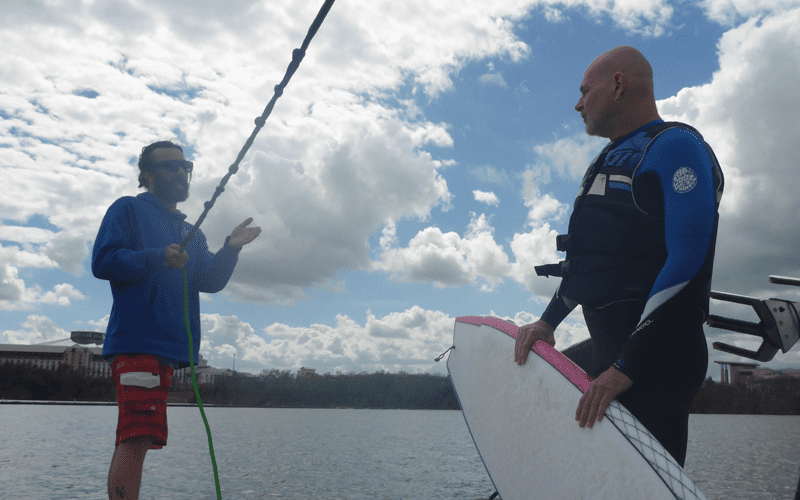 Coach Toddi J, pro athlete and shaper, in the house this weekend and able to introduce Paul, a local surfer from Australia (now living in Euless), how to wakesurf for the first time. Paul, landlocked and missing some much needed swells, discovered DFW Surf via youtube and was curious to see what "wakesurfing" was all about. Thanks to some great coaching tips Paul was able to catch the longest wave of his life.
In light of Paul and several other surfers, originating from a surfing background, here are some important tips for surfers (and wakeboarders) who are trying wakesurfing for their first time:
Wakesurfing Starts with a Rope
At the DFW Surf School our most important focus for beginners is learning how to "get up" on their first time out.  Many surfers who are not used to wakeboarding/waterskiing and other towable sports find it difficult to "get up."  Some surfers overlook the importance of step # 1 and are so focused on the surfing side of wakesurfing that they struggle to get up.  Another common first-timer surfing mistake is to try to get up starting on your stomach just like you would in the ocean.  Education and practice is key here, this is where those who do have a wakeboarding background excel because they know how to use the rope to their advantage and lean away from the whitewash and into the flats.  After education, practice pulls and a couple misfalls, you are finally up and ready to surf.  Step # 2- continue to use the rope for feet adjustment and balance.  A common surfer mistake is to immediately want to dive into surfing and pumping like an ocean wave.  Take your time, relax, get used to the wave and listen to your coach.
Surfboards are not Ideal for Wakesurfing
Even pro surfer, Josh Kerr, had to trade in his normal ocean shortboard for a custom one designed for the boat.  The main difference- Buoyancy.  Salt water is a lot more buoyant than freshwater, which is why wakesurf boards are designed to be thicker and they also feature a wider tail.  Take your typical ocean shortboard, thin, tri-fin thruster setup, skinny tail and not much rocker.  After trying out their surfboards, we then hand them a hand shaped wake surfboard and boom- What a difference the right equipment makes!  Some Longboards, on the other hand, are great behind the boat because they are already very buoyant.  The only difficulty here is getting up- if the board is too thick then you can't get up with your feat the normal way, you will have to start on your stomach or knees.  We recommend picking up a 8 or 9 foot Donald Takayama; these boards are narrow, easy to get up with, and fast.
Over the years it has been interesting to see which first-time surfers have excelled in wakesurfing.  We have found that Florida surfers were able to wakesurf the best because they are used to smaller waves and an emphasis on the front foot for speed.  Wakesurfing, if you are using a short performance board, is all about the front foot (+ body and hip positioning).  Similarly, wakeboarders transitioning into the sport have had difficulties.  I myself came from a wakeboarding background and was so used to leaning back and placing more weight on my back foot that wakesurfing was difficult.  Pioneering the sport in TX, there was no one teaching lessons or giving classes so I had to teach myself.  I had to let go of my ego and put the small performance board on hold.  After using a bigger board I was able to become more comfortable and finally able to understand the concept of speed and how speed could be generated on and off the power zone of the wave.
By Toddi J + TMarsh