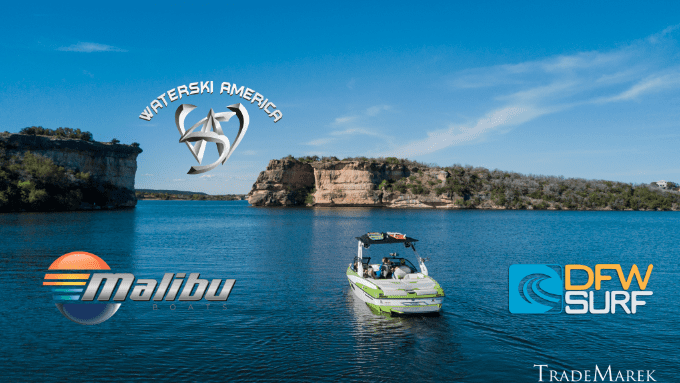 "As we enter our 10th season we are proud to announce a partnership with Premier Ski Boat Corporation- Waterski America and Malibu Boats.  Working with the crew at Waterski America (WSA), guys like Frank, Rusty and owner/founder Tim Cvar has been great.  Having a solid local dealership, the top inboard service department and most importantly, the best surfing experience, makes life easier for our surf school and customers; it is the reason why Malibu Boats is the #1 selling wakeboard boat and Waterski America is the #1 dealer in the country.  We are excited to team up with the best and look forward to many great years to come for the sport of wakesurfing in Texas"
-Tyler Marshall  DFW Surf Owner/Founder
About Waterski America:
Waterski America is an authorized Axis Wake and Malibu dealership serving the Lewisville, Texas area. We have been in business for 25 years, and that means we know how to exceed your expectations. We are proud to carry an unparalleled selection of new boats that will impress both first time and seasoned buyers. We also have one of the largest selections of pre-owned boats including Malibu, Axis Wake, MasterCraft, Tige, Supra, Nautique, Moomba and more! You don't live in Texas? No problem! We have the ability to sell our pre-owned boats anywhere in the country! Our friendly and knowledgeable sales, financing, service and parts departments are prepared to make sure your experience is outstanding, from assisting while you're making your choice to ongoing maintenance and customization. At Waterski America, we value the opportunity to create a long term relationship with our customers.
About Malibu Boats:
Malibu Boats is the world's largest manufacturer of watersports towboats, known for leading the industry with major innovations, including the first onboard computer system in 1993, the ingenious Power Wedge hydrofoil in 2006 (completely redesigned in 2014), the industry's first wake-maximizing hull in 2000, and Surf Gate, the innovation that changed the face of wakesurfing forever, in 2012. Malibu markets the Wakesetter and Response models—as well as the Axis Wake Research brand—through a worldwide dealer network. With some 450 employees and three manufacturing facilities, in California, Tennessee, and Australia, Malibu builds boats to help you live a #lifewithoutlimits on the water.